Once a year, we publish an entire month's worth of Tips and Tricks on how to utilize Finite Element Analysis (FEA) like an expert.
To keep track of them, we organized them in alphabetical order. Why? Because science. It is a proven method for remembering long lists of things. And what good is sharing Tips and Tricks if you can't remember them!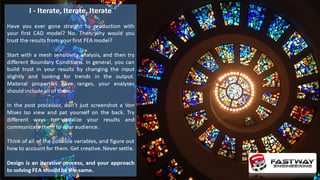 Coupled with eye-catching graphics, like the stained glass window spiral above, the AL-FEA-BET topics range from shortcuts and good practices to proven techniques that work no matter which software you use. Here at Fastway, we teach Finite Element Analysis to Designers and Analysts who use a wide range of software. Since we are not a "Value Added Reseller", we are able to work with many engineering teams across many industries here in the U.S.
We think that engineering is synonymous with education, and in a world that changes so fast, staying up to date on the latest tools and techniques is critical to keep your competitive advantage. Let's be honest for a second - do you really want your competitors to have smarter, faster engineers? Neither do we.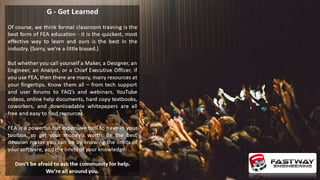 By teaching our very own curriculum, we use "Project-Based Learning" and other proven educational techniques that lessen the learning curve, and introduce high level mathematics concepts in a hands-on and collaborative way. Our curriculum is hosted online, and updated monthly. When you attend one of our classes, you get a login for life. This means you always have access to the latest, best training resources to keep you up to speed.
We know that you probably haven't sat in math class for a while. And, when it comes to learning math, it's hard to pick up the theory without sufficient context, so we design our curriculum to be roughly 25% theory and 74% application. This makes a recipe for one seriously, impactful math class.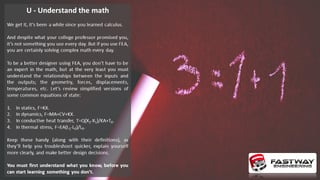 Because if you're not comfortable with the math, then you're not going to be very effective, you're not going to have a lot of confidence, and you're certainly not going to be as efficient with your time as you should be.
Listen, we get it, you're probably not going to use FEA every day all day like some of us, but that is OK. Once you take a class with us, you can reach out anytime to our experts and ask a question or get help on a pesky analysis that is giving you trouble.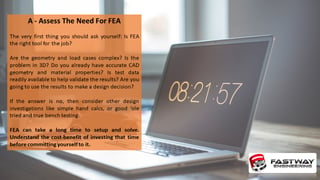 Many times, training is not in the budget (if it is, call us!), but that doesn't mean you can't still be learning right now. Click the link below to download all 26 FEA Tips & Tricks in a Hi-Resolution PDF, and start learning today!